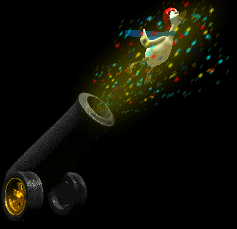 "I was sitting in the cup of a huge catapult, bent backward, ready for launch. The thin rope holding the base was smoldering, slowly being burnt by a candle. I tried to escape, but my hands and feet were tightly bound. No outcry, much trepidation. Then, the perspiration from my brow fell upon the candle like rain from a cloud. The flame expired.

"At least now I had time to see where I was going."


Comments? Suggestions? You can tell us here!
Copyright © 1996,1997 The Dreamers Guild, Inc.