More on Tumblr
February 27, 2014 - Joe Pearce
As I mentioned in earlier posts, the comic is now also being hosted at inherittheearth-comic.tumblr.com. This tumblr blog is also an "Ask" blog, meaning you can ask us questions that we will try to answer. Questions can either be directed to a creator of Inherit the Earth or one of the characters. The answer could even be a mini-comic itself!


Hiatus Over... Short Tales Begin
February 20, 2014 - Joe Pearce
Today, the next "chapter" of the Inherit the Earth webcomic begins: "Short Tales". And just to show how short a tale can be, this first strip is in fact a one strip tale! The next tale will be somewhat longer though.
As mentioned in a previous post, we are also posting these strips on tumblr at inherittheearth-comic.tumblr.com. If you are on tumblr, please follow us there. If you have an SFW blog, we will probably follow you in return!
Also, new Classic Sketches will be posted starting in March. More details later.
Finally, for posterity, below is the future funding drive reminder from last week.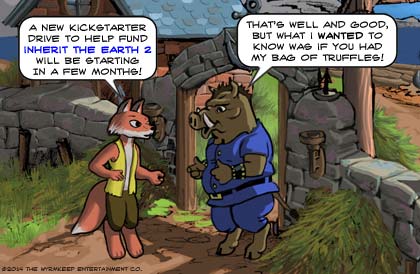 ---
Inherit the Earth Comic Book #3


&nbsp